Three Rounds of Wrestling: Round One
Three Rounds of Wrestling: Round One
Hi, this is Kat and I've been asked to write down my memories of a recent wrestling match I had against Becca. I thought I'd also try to give you all a little insight into what it's like entering the ring to go body to body against another girl.
I'll start out by saying that I've been in the ring against Becca before but each time I climb in I feel more experienced. I've lost more than I've won and the excitement of getting a new victory always makes it fun.
I'll start my story at a point that few of you get to witness … getting dressed for a match. Sometimes I bring a bikini that I like and sometimes the producer chooses the outfits.
For my match against Becca the producer picked out some really retro style outfits. I wasn't around in the eighties but I've seen photos of the old G.L.O.W. wrestlers dressed in tiny leotards and tights. I was excited to see the thong leotard and shiny tights that were laid out for me in the dressing room!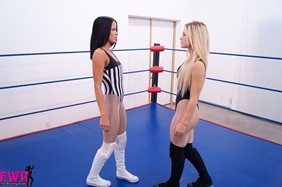 Yes, my entire body was covered but I felt really sexy because of the way the outfit hugged my skin. And I'll admit that although I was getting ready to fight against another girl I was looking forward to doing it while wearing this hot outfit!
Sign up for the VIP to view the full Photo Story!