Let's Box: Part Two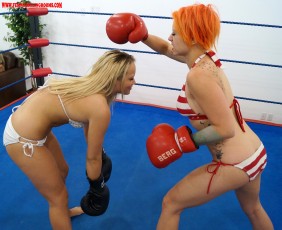 As soon as I saw Leelu's fist move toward me I ducked down and let it fly over my head! Then I unloaded a PERFECT uppercut into her chin! It was AWESOME! She let out a little grunt and down she went!
I moved fast since she was only stunned and hauled her up to her knees. I grabbed her in a headlock and began pummeling her pretty face!
It felt good to finally be in control!
I let go of her head and popped her with an uppercut. She fell back onto the canvas! I no longer felt exposed or vulnerable in my bikini ... now I felt TOUGH!
And Leelu looked like a pathetic doll, waiting to be knocked out! But first I wanted to work over her body a bit.
Sign up for the VIP to view the full Photo Story!