Knockouts, Pins, & Poses XII: Part One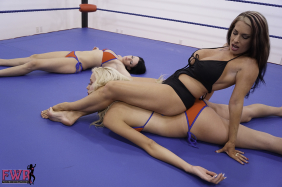 In the twelfth series of our popular custom photo set, the busty Goldie Blair demonstrates her wide variety of wrestling holds that have knocked out poor Kat and Summer.
The beauties sleep gently in these photos but you can imagine the struggles and desperation that they went through before going limp in Goldie's grasp!
Sign up for the VIP to view the full Photo Story!