Battle for the Title: Part One
The time has come!  Fem Wrestling Rooms needs a champion!  
Lovely LeAnn and sexy Becca have been chosen as the combatants and whoever wins will be crowned the Queen of FWR!!!
The two beauties agreed to a pure wrestling match with a 60 minute time limit.  The girl with the most submissions, pins, or knockouts at the end of the hour would be declared the winner! 
Dressed in their sexiest bikinis, Becca and LeAnn began to circle at the sound of the bell.  LeAnn knew that the blond looked innocent but was known for her wrestling knowledge so she struck fast and low, knocking BECCA to the floor.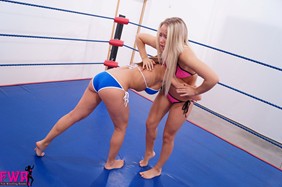 Sign up for the VIP to view the full Photo Story!