Violet vs Helen: 3 Rounds of Wrestling Part One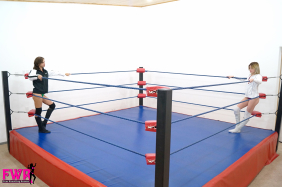 Violet was challenged by a visiting model named Helen to a pro-style wrestling match so we eagerly grabbed out camera and captured all the fun!
From the exciting entrances to the first fall knockout, these beauties worked each other over pretty good!
Sign up for the VIP to view the full Photo Story!