Too Timid: Part One
I don't know why I ever decided to get into the wrestling ring with her. Yeah, she's tiny like me but Persephone has experience.
But I guess I thought I could escape her holds because I'm flexible. And I thought that I might be able to get her down and pin her or something.
I was wrong.
But I'm getting ahead of myself. I'm Jackie Jupiter and I love a challenge so that's why I agreed to this wrestling match. I'll admit that I honestly thought it would be nothing more than rolling around grabbing onto each other … and I thought that would be kind of fun.
So they called my name and I made my way to the huge wrestling ring and stood in my corner. 
My opponent, Persephone, was called next and climbed in the ring and went to the opposite corner.
I won't deny that I was looking forward to getting into some grappling type of holds with her. She was cute!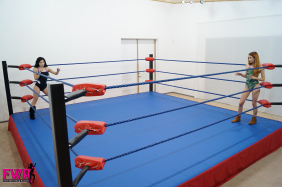 A bell rang and we headed out of our corners to begin the match. 
Sign up for the VIP to view the full Photo Story!