Poor Persephone: Part Two
When we left Persephone in our last update, the rookie wrestler was nearly unconscious from Madison's tight scissor holds on the ropes.
As the tough girl in blue returned into the ring Persephone tried to tell her to stop … but it was no use.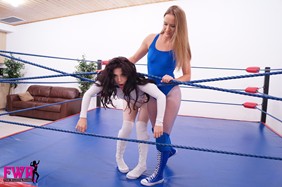 The little brunette was pulled up and dragged over to the ropes where Madison had fun trapping the beauty and humiliating her!
Sign up for the VIP to view the full Photo Story!