No Room for Rookies: Part Two
Poor Honey was being destroyed by Persephone with wrestling holds that made her weaker and weaker. She could barely move after a back bending camel clutch and Boston crab!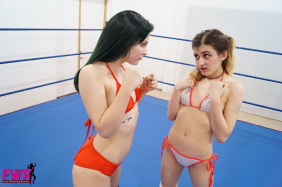 Persephone saved the best for last though and taunted little Honey into standing up and having a fist fight!  The rookie was too scared to defend herself which made Persephone very happy! Her hard fists found targets on poor Honey's face! 
Sign up for the VIP to view the full Photo Story!