Mindy Boxes Becca: Part Two
After the blond coed slammed into the far corner I went running toward her, intent upon smashing my bigger and stronger body into hers.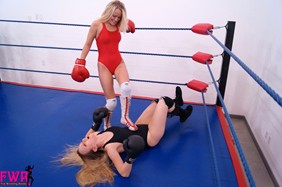 I could visualize the impact, her body going flat, the air rushing from her lungs … but at the last second she rolled out of the way! It was too late to stop my momentum and I slammed into the turnbuckles! The force stunned me and I fell down, only to feel her boot smash into my gut!
No!!! This couldn't be happening! I had her right where I wanted her! She was supposed to be begging me to knock her out! And now I found myself underneath her as she slammed punch after punch into my face! The leather stung as it hit my cheeks and caused me to see stars.
Sign up for the VIP to view the full Photo Story!