Let's Wrestle: Part Two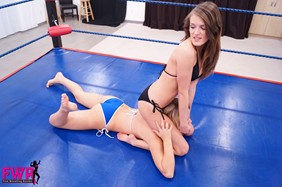 Peyton finally released Becca from the painful surfboard hold but immediately kneeled down over her head to apply an interesting neck stretch.
"Does this hurt? You wanted to wrestle me but I don't think you gave it much thought! I'm tougher and smarter than you when there isn't a script to follow."
Becca struggled to escape but it was useless. The brunette finally rolled to her side and extended her long legs to squeeze poor Becca's head between her thighs. Becca winced in pain as the muscles in Peyton's legs cut into her neck.
Sign up for the VIP to view the full Photo Story!