Let's Box: Part One
I know what everyone's been saying about me ...
"Becca's soft. Becca's easy to beat. Becca's fun to beat up." Well, I decided to prove that I'm as tough as the next girl so I asked the producer of FWR to match me up with someone my size for a little boxing match. They found this chick named Leelu and the next thing I knew, I was in my corner waiting for the bell!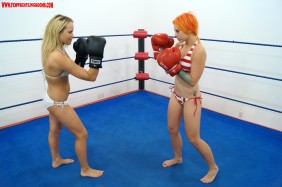 She didn't look so tough. Even with that orange hair!  I had to keep from laughing as we squared off. Our gloves came up and the fight was on!
Sign up for the VIP to view the full Photo Story!