Last Girl in the Ring: Part Three
At the end of part two of this incredible three girl wrestling match, Sasha took a dive at Carrie and Becca but missed and ended up falling out of the ring! With her disqualified, the two blondes were left. After a quick face off, they lock up and go  back and forth until Becca gains control getting Carrie down to the mat.
But the crafty Carrie manages to escape and starts working over Becca's leg then giving her a nasty body slam! As Carrie is going for a clothesline, the sneaky Sasha grabs her ankles, causing the girl to fall hard to the mat! Becca moves fast and ....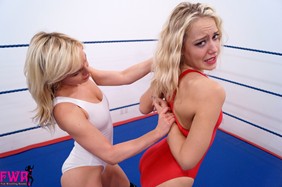 Sign up for the VIP to view the full Photo Story!