Boxers vs Wrestlers: Part Two
Amo shot one more punch into Carrie's beautiful face then pulled her up to her feet. It was easy to steady the groggy wrestler as she slammed an uppercut into her exposed chin, sending the little girl flying to the mat.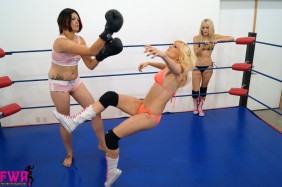 Amo then went over to her corner to celebrate with Alex while Carrie struggled to get to her corner and tag in her partner. The blondes talked briefly to try and come up with a strategy for fighting these amazon type boxers. Becca seemed to be confident that she could come up with something and took to the ring while Amo tagged Alex back in.
Sign up for the VIP to view the full Photo Story!