Boxers vs Wrestlers: Part Three
Just as Carrie was ready to count out "THREE!!", Alex jumped through the ropes and smacked her in the face! Carrie went flying, breaking the count on Amo!
Alex quickly grabbed the stunned blond and yanked her to the feet, calling her partner over. Alex steadied Carrie and with Amo standing on the opposite side, gave the little cutie a hard right hook to the face!
The force of the blow spun Carrie to face Amo, who slammed her own left hook into poor Carrie's face! The force spun her around again only to be met with another punch by Alex.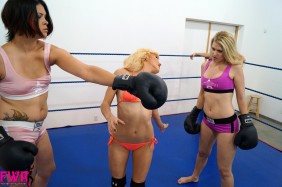 Becca finally jumped into the ring to stop this slaughter of her team mate but Alex simply turned around and smashed Becca in the face.
Sign up for the VIP to view the full Photo Story!