Boxers vs Wrestlers: Part One
Becca and Carrie had reserved the ring to settle a wrestling rivalry that had been building for a very long time.  Each girl had been training hard and was confident that she could defeat her opponent.  The day had finally come to settle old scores – once and for all.
  They reserved the ring for 2 hours, knowing that this battle would be a long and hard match.  With the rules settled and the bikinis on, they met privately ... no ref, and no interferences! At least they thought so!!

The match started evenly as the beauties locked up in center ring. Carrie quickly pulled Becca down into a tight headlock then threw her to the mat with a snap mare that momentarily stunned her rival.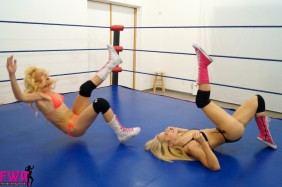 But Becca has experienced worse moves and as Carrie reached down to grab a handful of hair, the young beauty gave her a sharp kick to the forehead!
For a moment is looked as though the match would be a draw.  Clearly, both girls were dazed but Becca quickly shook off the fog and trapped Carrie in a painful, single leg Boston crab.  Surely this would make her submit.  Carrie pounded the mat, screaming for mercy.  But it quickly became obvious that the wrestlers were not alone. Two female boxers, Alex and Amo Morbia approached the ring.
Sign up for the VIP to view the full Photo Story!