Blond vs Brunette: Part One
Throughout the ages fans have wondered who would win in a fight … a blond or a brunette.
Some think the fair haired girls are softer looking, while others see them as stronger. Brunettes seem to be more confident, yet that confidence can be their downfall.
We've matched up two of our most beautiful girls, LeAnn the brunette versus Becca the blond. They each took the challenge happily and, after putting on their leotards, entered our squared circle and faced off.
As they met in the center of the ring, it was obvious that LeAnn had a few inches on Becca but the blond has more wrestling experience.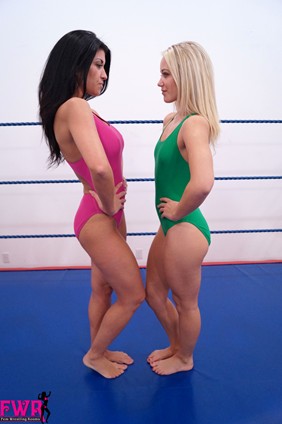 Sign up for the VIP to view the full Photo Story!