Bent Out of Shape
Hi! This is Becca! I love wrestling the other girls at FWR but my favorite is Carrie! She can be tough but I've found out that if you catch her off guard she can be fun to beat up!
I heard that she was gonna be in the studio doing some stretching exercises so I snuck into the dressing room and put on a cute wrestling outfit. Then I went up to the ring, acting like her best friend and struck up a nice conversation with her.
"You're really flexible!" I said. "Yeah, it really helps me get out of nasty holds when I'm wrestling." she responded.
I decided to get right to the point. "Do you want to have a best of three falls match ... for fun, of course!"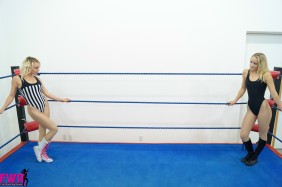 I smiled a lot so that she was relaxed. "Sure!" she responded and we took our corners and gave each other our best stare downs then finally circled and locked up.
Sign up for the VIP to view the full Photo Story!