Becca Boxes Becky: Part Two
At this point in the boxing match between Becca and Becky things got weird. Becca knew that she had knocked Becky senseless and basically threw the boxing rule book out the window!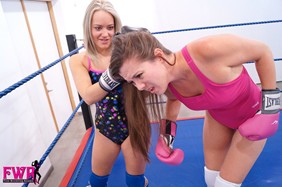 She wrapped the tall brunette's long hair in her boxing gloves and yanked her roughly to her feet and dragged her over to the ropes.
Sign up for the VIP to view the full Photo Story!