Beating Up Vanessa: Part Two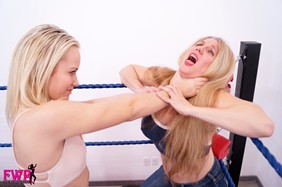 We continue with the custom photo shoot featuring Vanessa on the receiving end of a major beating by Becca.
In the final set you'll enjoy seeing poor Vanessa get choked in the corner, punched in the belly, stomped in the belly, clawed in the belly, trapped in the ropes and punched in the belly, taunted by Becca, posed over by Becca as she lies unconscious, and a final set of photos featuring Vanessa lying unconscious in several areas of the studio.


Sign up for the VIP to view the full Photo Story!