Battle for the Title: Part Two
With a little over 25 minutes still to go in this championship fight, LeAnn was proud of her ability to avoid Becca's powerful test of strength and knock her out with her scissor hold.  Becca, on the other hand, was pissed!  This was supposed to be a straight wrestling match and she felt that LeAnn's dirty low blow was unfair.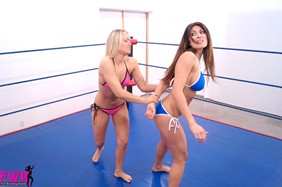 When they began the next round, Becca went at LeAnn immediately and grabbed her by the arm, spinning her around. 
Twisting her arm up into the middle of her back, Becca pulled her head back by the hair and whispered in her ear, "I don't like dirty fighters, honey.  You crossed the line and now you're gonna pay!  It's time for a little lesson in true wrestling …. and you're gonna be the student!"
Sign up for the VIP to view the full Photo Story!